February 27, 2013 09:06
Days 2 & 3 of production have included trips to Intersurf (Israel's top surfboard maker/shop), the best halvah and candy shop in the Middle East, the best hummus in town, back to the club, and walking all around central Tel Aviv- waiting for those waves tomorrow!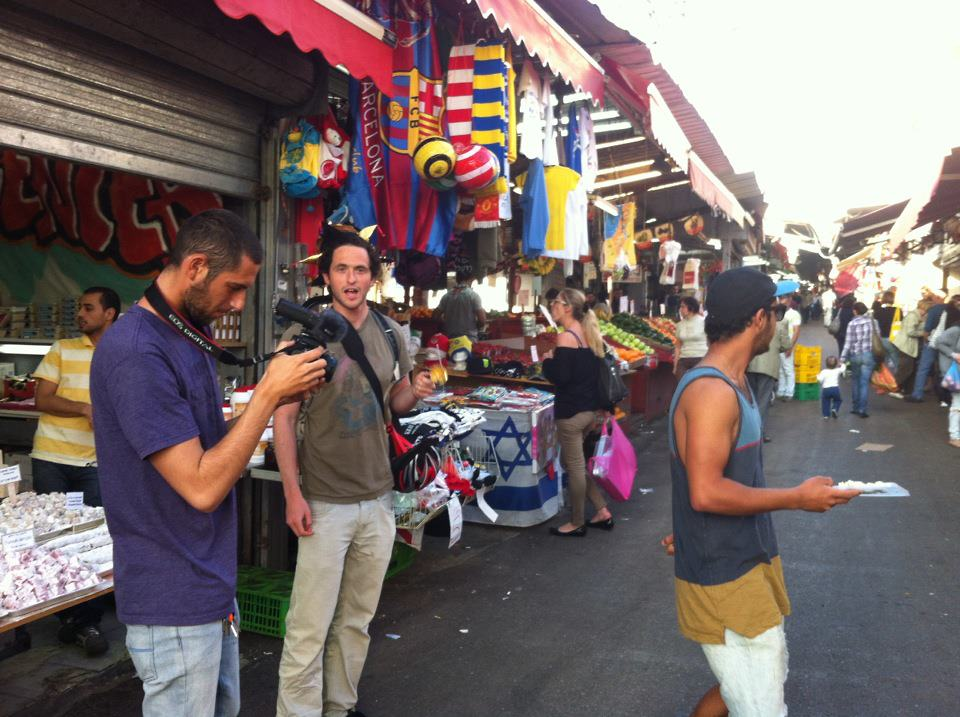 Posted February 27, 2013 09:06

February 25, 2013 10:50
Production began today on a documentary I am creating... prinicipal photography will continue throughout the next couple weeks around Tel Aviv as well as the north of Israel. More details to follow!
Posted February 25, 2013 10:50

February 11, 2013 09:12
TEL AVIV - Anyone who has ever had the misfortune of being tasked with finding a parking spot in Tel Aviv knows full well how existentially awful the experience can be.
There are many reasons for the dearth of spaces, one of which is that the current situation allows the city to profit off motorists who park illegally. As reported by the Associated Press, according to a 2009 report by the city's Enforcement Department, the lack of parking spaces contributes to the over 3,000 parking tickets that are issued per day, on average.
Posted February 11, 2013 09:12

February 7, 2013 05:50
HAIFA - The number one killer of both men and women in the United States is heart disease, according to the National Institute of Health. Researchers at the University of Michigan are working to change that. Partnering with colleagues at the Technion – Israel Institute of Technology, scientists are investigating new ways to attack the causes of heart disease.
Posted February 7, 2013 05:50

February 6, 2013 04:53
JERUSALEM - With Israeli Prime Minsister Benjamin Netanyahu retaining power in last month's election, future construction in the E1 area will remain at the forefront of international controversy. The most visible battle between Israelis and Palestinans in the past few months, the issue arose after the Palestinian bid for upgraded, "non-member observer state" status at the United Nations. Following this, PM Netanyahu announced plans to develop homes for Israeli citizens in an area referred to by the Israeli government as E1 ("East 1").
Posted February 6, 2013 04:53

February 4, 2013 01:41
TEL AVIV - It is sacrosanct that bagels, mandel bread, and corned beef are Jewish foods. Yet, in Israel, exactly none of them are considered particularly Jewish. Maybe it can be chalked up to the intentional distancing that Israel's founders wanted to make from their Ashkenazi origins, but Israelis tend to be much more eager to go for Jachnun (a Yemenite pastry) on the weekend than a bagel and lox.
Posted February 4, 2013 01:41

January 30, 2013 13:15
TEL AVIV - As salsa rhythms spill out onto the street, passersby are drawn in by the dim lighting set against the faded brick exterior, which displays a Cuban flag painted on its visage. Inside, glasses filled with sticks of sugar cane and mint line the bar. Spanish words buzz through the air as the staff confirms orders with one another.
Posted January 30, 2013 13:15

January 24, 2013 00:48
(JANUARY 22, 2013)
TEL AVIV - When Israelis go to the polls today, people around the world will be watching with anticipation. Rabbi Ariel Konstantyn, from Long Island, will be waiting to see if he has a new job, as a member of the Knesset, working to reform the very nature of the Jewish state.
Posted January 24, 2013 00:48

January 23, 2013 03:20
JERUSALEM - In early January, Combatants for Peace held a small discussion at the Beit Shmuel Hotel, in the shadow of the Old City of Jerusalem, with two of its members sharing their stories. In attendance were guests from Allegheny College and various other schools in the United States.
Combatants For Peace was started in 2005 and is a joint Israeli-Palestinian movement predicated on using non-violence in an attempt to end Israeli control of the area known alternatively as the West Bank or Judea and Samaria. The group was once solely comprised of former combatants from both sides, but now includes individuals who never fought.
Posted January 23, 2013 03:20

January 23, 2013 00:29
TEL AVIV - Israelis will go to the polls today to vote for their next Prime Minister and members of parliament (Knesset). Compared to the United States, the electoral system in Israel differs greatly, to say nothing of how campaigns are actually conducted.
In Israel, the political party system is far more volatile than in the U.S. This is true even though, with few exceptions, the leaders of the Labor (left) and Likud (right) parties, including their precursors and instances in which those parties have allied with others, have been the prime minister.
Posted January 23, 2013 00:29

RSS Feed
Recent Blog Entries
Archive