January 30, 2013 13:15
TEL AVIV - As salsa rhythms spill out onto the street, passersby are drawn in by the dim lighting set against the faded brick exterior, which displays a Cuban flag painted on its visage. Inside, glasses filled with sticks of sugar cane and mint line the bar. Spanish words buzz through the air as the staff confirms orders with one another.
At Alma de Cuba, a new Cuban restaurant in Tel Aviv, it is easy to forget you are in Israel, just steps away from the city's main military base and site of a bus bombing only a few weeks ago.
Any time a restaurant tries to reference a foreign culture or place, there is a risk of it falling into caricature and kitsch. Alma avoids this, largely due to its specificity in replicating a proper Cuban establishment.
"I'm Cuban, I knows how it feels, I know how it's supposed to work," says Manager Juan Gonsales, a Cuban expatriate who has lived in Tel Aviv for the past 12 years. He met his Israeli wife while giving a tobacco field tour in Cuba.
Since arriving, Gonsales knew that a Cuban joint would fare well in Tel Aviv.
"It has to work, I've traveled around Europe and every city has a Cuban place, sometimes more than one, people have curiosity about Cuban culture, Cuban food, Cuban drinks, it's something that calls attention of many people," he said.
In this way, Cuba and Israel both represent small nations that seem to draw more attention and interest than their geographical sizes and population numbers would suggest.
Asked why this might be the case, Gonsales suggested a couple possibilities.
"Cuba still looks like it is stuck in time, they have Mercedes and Audis and other cars, but people are missing that kind of architecture and culture, people miss the old days. They miss going to their neighbors and asking for some sugar and talking. People communicate less. Cuba reminds people what it used to be in old times," he said.
Gonsales went on to add that, "Cubans are very nice, it's very warm country, not just in terms of temperature, but people are very hospitable."
This hospitality is reflected in the service at Alma. The staff members, all from Latin countries, make a concerted effort to bring this aspect of Cuban culture to the Israelis and visitors who frequent the restaurant. Given the brusque nature of the service at many Israeli restaurants, the contrast is immediately apparent and adds to the transportive ambiance created by the music, food, and décor.
MAKING ISRAEL MORE INTERESTING
For Guy Shevach, a restaurateur and managing partner with Gonsales and Moti Maaravi, Alma represents more than just another new restaurant in the city.
"This about bringing some more culture to Tel Aviv, and making Israel more interesting, and open to other cultures," he said.
"Israel is very much an international country, a lot of people came from South America and Central America, people here value other cultures. We always look for the new thing, that we don't know all the way. This is why you can find almost everything in Tel Aviv."
With Alma de Cuba, Shevach hopes to be a part of this movement and tradition.
"What I like best is to host people and entertain them and give them a unique experience that they cannot find everywhere. We have a lot of people coming here and we don't allow them to go back to what they know, we make them confront something new," he said.
Shevach also pointed out that, beyond both being small countries with outsized world interest, Israel and Cuba share other commonalities as well.
"In a lot of ways we (Cubans and Israelis) are very much alike: temperament, love of life, hospitality. With food, there are connections too. As far as seasoning, Israeli food and Cuban food uses the same things, cumin, oregano. We like spicy food. Also, chicken, rice, beans..."
Alma de Cuba is also innovative in the city for how it serves its food.
"We don't serve like a traditional restaurant, we serve more like a dining bar, that way you can eat during the night and be entertained. This is good for people who want to eat later, but also concentrate on other things, like the music, video displays, and live concerts, so it's different than a classic restaurant," said Shevach.
There is live Cuban and Latin music every Monday, performed by local bands, which echoes the music that is played at Alma's every other night of the week.
"We play Cuban music in this place, 90% is Cuban and the rest is Latin, stuff you'd hear in Cuba, salsa, lots of Reggaeton, which is all you hear in Cuba today," says Gonsales.
"It took me a few years to get used to it, my whole life all I heard was Cuban salsa, things like this, but people changed, influenced by what's going on in Puerto Rico, Miami," he said.
Alma presents an interesting scene as the evening wears on. Attracting a more sophisticated and slightly older clientele, owing to the complex menu and nature of the area amongst other factors. Nevertheless, bartenders and patrons routinely dance on the bar and generally get swept up in the upbeat, Latin atmosphere on display.
As the music plays downstairs, guests can go upstairs to humidor, the largest of its kind in Israel. Dark wood paneling, leather seating, and mood lighting give the room a character that somehow feels more intimate and appropriate for smoking fine Cuban cigars. In this room, it is easiest to feel completely removed from Israel and the Middle East.
CUBA-ISRAEL CONNECTIONS
Back downstairs, the authentic Cuban menu, under the watchful eye of Mr. Gonsales, sometimes blends the island's cuisine with local influences. An intriguing example of this is the pastilla, a Moroccan dish that has layers of both crispy and soft dough filled with meat, prepared ropa vieja-style, and a spicy honey sauce, accompanied by a tropical fruit-based salad.
The contrasts of salty, sweet and spicy, mixed with the layered textures of the dough, combine to create a flavorful and unique dish, truly born of Cuban and Middle Eastern traditions.
Another plate of note is the grilled lamb with a smoked chipotle sauce along and honey made from dates ("silan") with rice and black beans. The "mixed chips" consisting of fried plantains, bananas, and yucca served with a yogurt sauce is an excellent way to start, or end, the evening at Alma.
Outside, the bar evokes a neighborhood, laid-back vibe, which is enhanced by the wood picnic table next to it. A sugar cane juicer (whose product is so very highly recommended), brickwork, and bright colors, complete the setting.
Shevach has grown more attached to Cuba and its culture since he become involved in helping create Alma. Perhaps one reason for this is the closeness of the two peoples and the window Cuba's history offers for Israelis.
"I started studying about Cuban culture and it made me think a lot about what Israel could have been if the communist or socialist vision would have happened in Israel... (instead) what happened in Tel Aviv, in the last 25 years, is that it became a very international city," Shevach said.
Shevach sees a connection between this shift and Israel's appeal to tourists, beyond all the religious sites in the country.
"Many people are coming here for cultural reasons and tourism and I consider it one of the best places to go to as tourist in the world," he said.
"We are an interesting place, very beautiful place, an interesting place to travel to and microcosmos of everything and people should try it. It sounds foreign and scary, but we live here and live here well," Shevach said.
"And if someone didn't come here before because there wasn't a Cuban bar, now they can come, we are ready for them."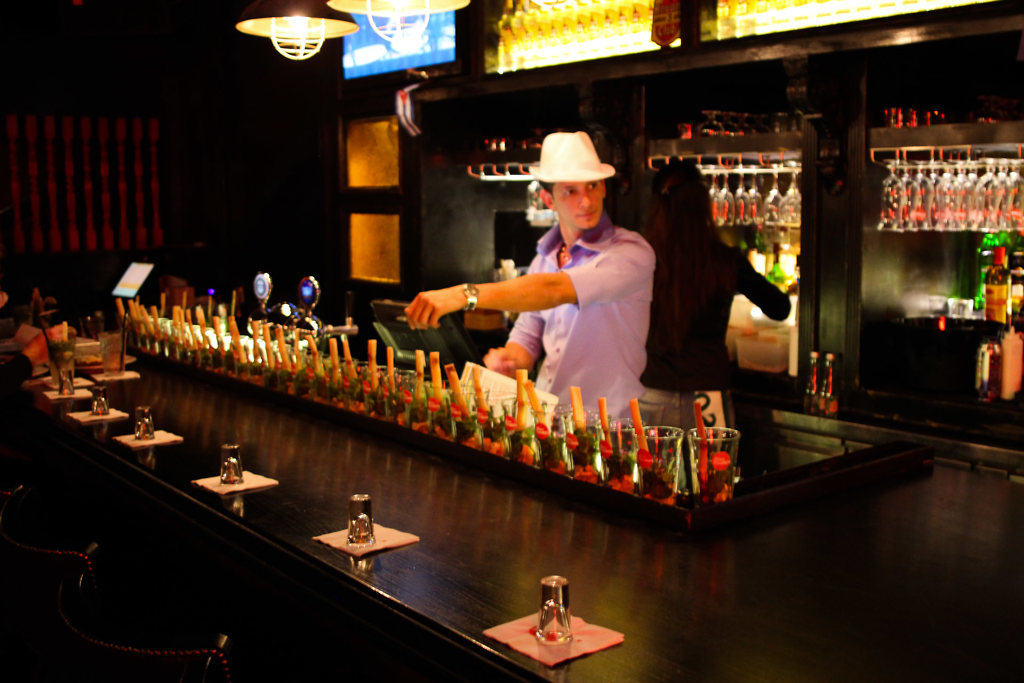 Alma de Cuba specializes in authentic mojitos, which line the bar.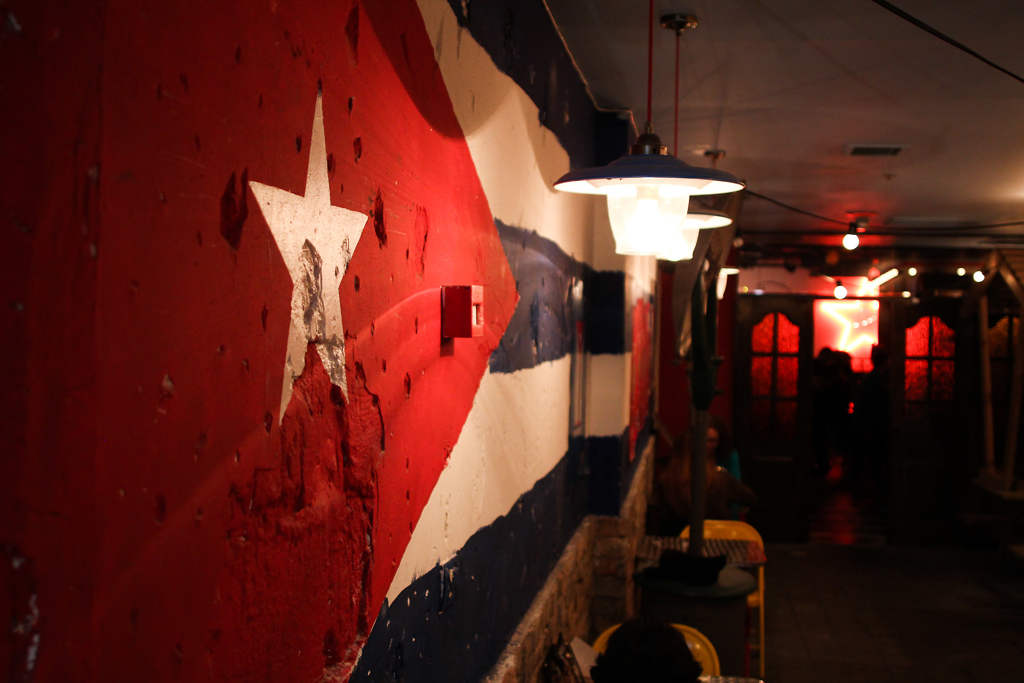 The Cuban flag adorns the wall of the outdoor eating area
Posted January 30, 2013 13:15