June 6, 2013 13:39
HERZILIYA PITUACH - On a single floor of an office building in tony Herzliya Pituach, a town just north of Tel Aviv, workers at GM's Advanced Technical Center are at the forefront of developing emerging automotive technologies. They hope these innovations will play a large role in changes to the way cars are made and used, as well as to the future success of the company.
Posted June 6, 2013 13:39

May 22, 2013 08:57
TEL AVIV - In the shadow of Nokia Arena, home of 5-time European basketball champion Maccabi Tel Aviv, dozens of vintage American, European, Asian, and Israeli cars were on display last Friday to commemorate the little-known Israeli car industry.
Despite a lack of publicity, the show drew hundreds of local admirers, in addition to members of the organizing group, The Five Club.
Posted May 22, 2013 08:57

May 13, 2013 08:39
Filming has continued with some days back at the club, Yom HaZikaron (Memorial Day), and day on the base.
Editing continues...
Posted May 13, 2013 08:39

May 13, 2013 06:01
Recently went on a the final training march of a co-ed Israeli military unit, called Karakal:
Posted May 13, 2013 06:01

March 7, 2013 09:44
Princial photography has (mostly) been comlpeted on the documentary! It really was an epic 10 days. Thank you to everyone who helped tell the story!
Now, there are a few interviews to get, as well as some b-roll, and then on to editing...
Check out the VildeHaya Productions Facebook page for all the updates and details!
Posted March 7, 2013 09:44

March 3, 2013 09:20
Shooting has continued for the VildeHaya-produced documentary set here in Israel. We are into Day 7 and are really excited about the footage we have been able to get and the stories that we will be able to share.
More info at:
facebook.com/vildehayaproductions
Posted March 3, 2013 09:20

February 27, 2013 09:06
Days 2 & 3 of production have included trips to Intersurf (Israel's top surfboard maker/shop), the best halvah and candy shop in the Middle East, the best hummus in town, back to the club, and walking all around central Tel Aviv- waiting for those waves tomorrow!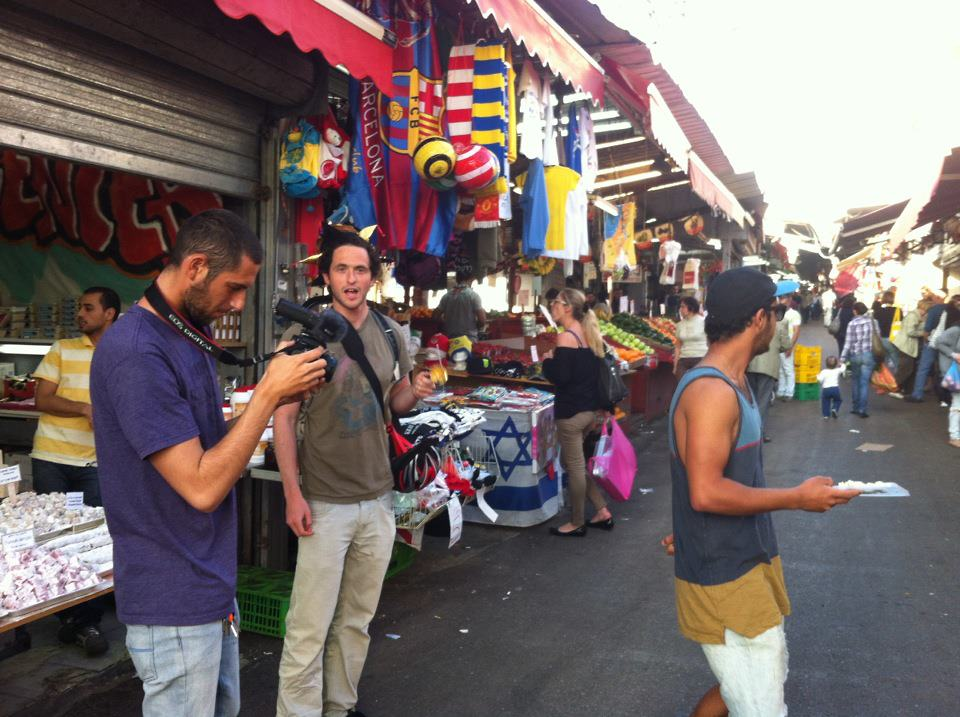 Posted February 27, 2013 09:06

February 25, 2013 10:50
Production began today on a documentary I am creating... prinicipal photography will continue throughout the next couple weeks around Tel Aviv as well as the north of Israel. More details to follow!
Posted February 25, 2013 10:50

February 11, 2013 09:12
TEL AVIV - Anyone who has ever had the misfortune of being tasked with finding a parking spot in Tel Aviv knows full well how existentially awful the experience can be.
There are many reasons for the dearth of spaces, one of which is that the current situation allows the city to profit off motorists who park illegally. As reported by the Associated Press, according to a 2009 report by the city's Enforcement Department, the lack of parking spaces contributes to the over 3,000 parking tickets that are issued per day, on average.
Posted February 11, 2013 09:12

February 7, 2013 05:50
HAIFA - The number one killer of both men and women in the United States is heart disease, according to the National Institute of Health. Researchers at the University of Michigan are working to change that. Partnering with colleagues at the Technion – Israel Institute of Technology, scientists are investigating new ways to attack the causes of heart disease.
Posted February 7, 2013 05:50

RSS Feed
Recent Blog Entries
Archive