GM's Advanced Technical Center Making Changes For The Future

June 6, 2013 13:39
HERZILIYA PITUACH - On a single floor of an office building in tony Herzliya Pituach, a town just north of Tel Aviv, workers at GM's Advanced Technical Center are at the forefront of developing emerging automotive technologies. They hope these innovations will play a large role in changes to the way cars are made and used, as well as to the future success of the company.
"The auto industry is undergoing a huge transformation, we are in an inflection point, actually reinventing ourselves," said Advanced Technical Center Director Gil Golan. "For the last 100 years, we have been developing cars that, the main experience has been the driving experience: vehicle dynamics, torque, horsepower," he said.
"Overnight for our industry we are expected to provide the same product, but with new and additional experience, the digital life experience."
Golan and his team are working on technologies related to what he and his colleagues see as two major shifts in the auto industry: increased connectivity, to the cloud, other cars, and the internet, as well as autonomous vehicles, otherwise known as driverless cars.
Evidence of these trends can be seen in recent legislation passed by California, Nevada and Florida, that authorizes driverless vehicles. Such action was taken after the success of Google's driverless vehicles, which have traveled hundreds of thousands of miles, according to the company. Additionally, automakers Mercedes and Volvo announced 2014 model year vehicles with the ability to function autonomously, in certain conditions.
Facing these trends, Golan says GM is well positioned to compete. "At the new GM, today, we do have a sense of urgency when we develop our products," he said. "We need to fight, innovate, be creative and implement swiftly. The GM culture is different than 5 years ago,"
Human Machine Interface Lab Group Manager Omer Tsimhoni, who spent 12 years studying and teaching at the University of Michigan, added, "People probably think of GM as big, corporate, and slow to accept new technologies. I think one of the ways you can see GM changing is that they are investing in new technologies in software and electronics, much more than people think," he said.
"People think of an engine and frame, but in my group, we look at how technology interacts with the driver and the passengers, we are looking at the user experience, how to make a car more like an iPhone," he said.
"Still, we need to worry about safety, things that cars are expected to deal with. With computers, nobody cares if they crash once in a while," said Tsimhoni.
A large part of GM's new strategy, developed after its 2009 government bailout and Chapter 11 bankruptcy filing, is dependent on their Advanced Technology Centers, which are also located in Shanghai and Palo Alto, CA.
It is at these centers that ideas and concepts transition into commercialized products and features that are incorporated into cars, according to Golan.
Despite not being known as a traditional center of the automotive industry, Israel was a natural fit.
"In Israel there is no history or legend of traditional auto technologies, but the auto industry itself is taking a sharp turn right now," said Golan.
"Human machine interface, smart sensing, wireless enablers, vision systems are areas with needed skill sets that are relatively new to the auto industry and you need to have more people from computer science or electrical engineering and these talents exist here… Israel is known for its high-tech talent," he said.
In addition to these quantitative skills, Golan also notes what he perceives to be a pervasive Israeli mindset that can add value to multinational companies such as GM.
"The local culture encourages employees to take a higher degree of risk when you start a project…people here are more open to take more radical steps toward development, think more towards impossible steps," he said.
Though reluctant to discuss the specifics of past or present projects, Golan did reference the Israeli company Mobileye, known for its image and signal processing expertise, as an example of the way in which GM is able to take advantage of the Israeli tech scene. GM is one of Mobileye's largest customers and has integrated their technology in vehicles such as the GMC Terrain, Chevrolet Equinox, and Cadillac STS.
GM Ventures, which invests money in promising tech start-ups, is another avenue by which GM is taking advantage of local innovations. "It shows you how important advanced tech is for GM, we understand that we need to think beyond the obvious," said Golan.
He also mentioned that technology developed by GM has been applied to other fields.
"We do our part in a very big machine, we need to generate innovation and turn it into effective features for our business. Furthermore, if the same innovation can benefit other industries, we will gladly outlicense that. GM is already doing that."
As part of both studies and work, Golan and Tsimhoni have spent many years in Michigan, with Golan going so far as to say it is his second home.
"(There are) great people and very smart in Michigan, we learn a great deal from the experience of the people in Michigan. I do care about the state, about the businesses condition in Michigan. I would like to see Michigan be a very successful state. It is important for GM," Golan said.
Though GM has fulfilled the stipulated terms of the bailout agreement, about $20 billion is still outstanding from the original total of $49.5 billion. This difference is currently being held in the form of U.S. Treasury-held stock.
Currently, the stock is trading at about $34 per share. At that price, the sale would be about $10.5 billion short. The stock would have to reach about $72 for the full $20 billion to be recouped by taxpayers.
Yet, in a report published in 2012 and based on 2010 figures, the Ann Abor-based Center of Automotive Research estimated that $91.5 billion in state tax revenue was created by the automotive sector as a whole. This includes sales and service of new and used vehicles, income taxes from industry employees, fees related to operation of a vehicle, and business taxes derived from corporate income tax and business license fees.
The U.S. Department of the Treasury announced at the beginning of May that it would begin the process of selling their 300 million shares. Treasury intends to complete all sales within 12-15 months.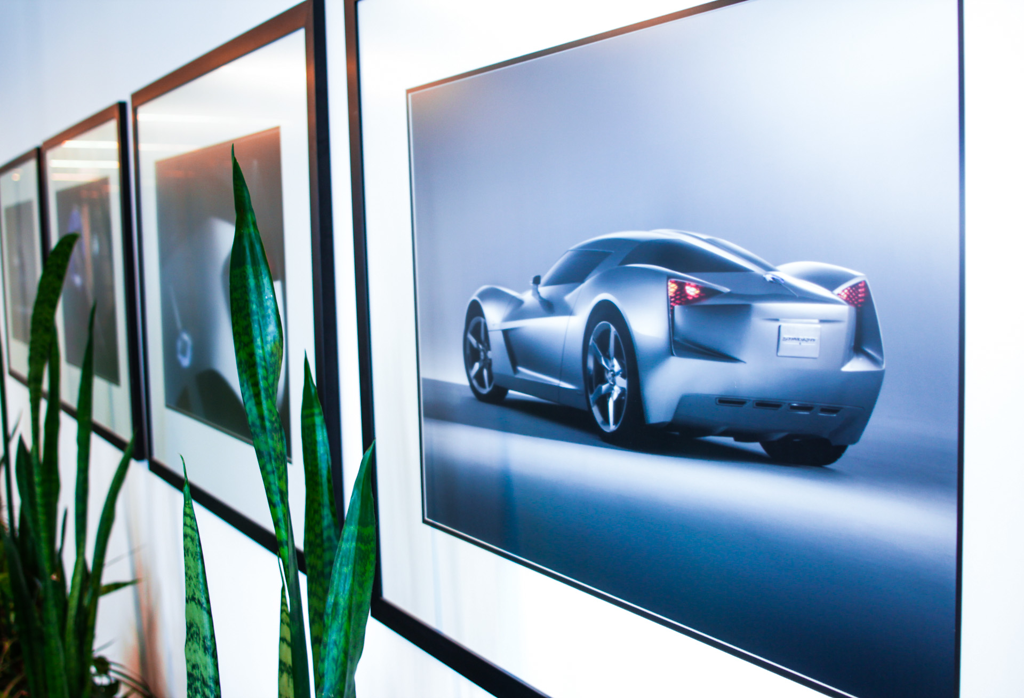 Chevrolet Corvette Stingray Art hangs on the wall of GM'S Advanced Technical Center in Israel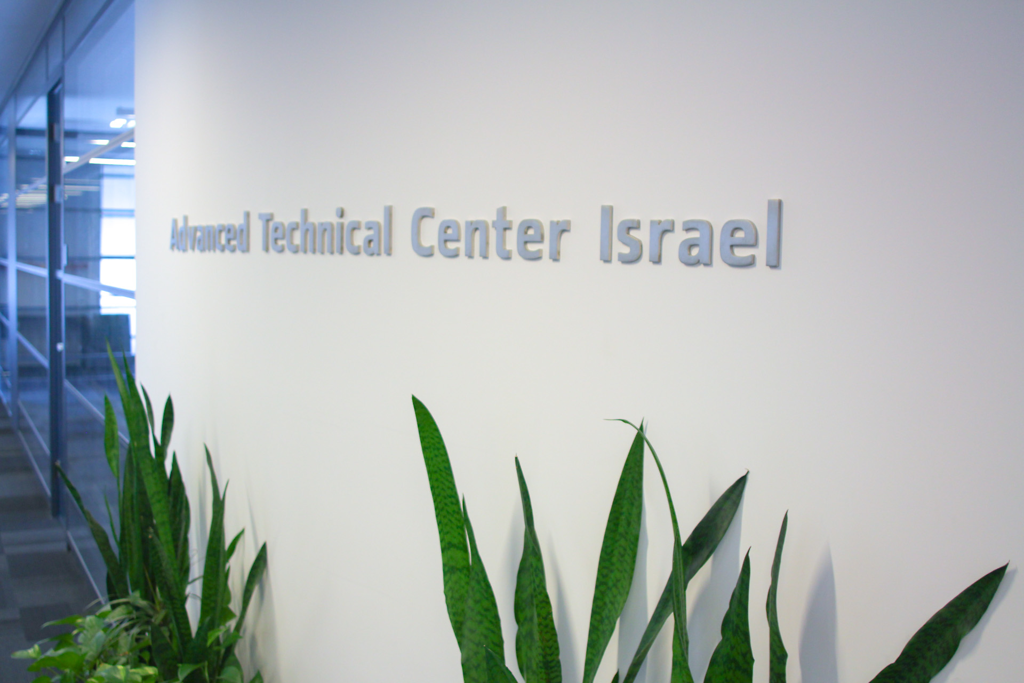 GM's Advanced Technical Center, located just north of Tel Aviv
Article Links:
http://www.sourcenewspapers.com/articles/2013/06/05/news/doc51af3d1196b20307980739.txt
http://heritage.com/articles/2013/06/12/heritagewest/news/doc51b8af08769f7436749636.txt
http://www.heritage.com/articles/2013/06/19/ann_arbor_journal/news/doc51b8a9a6ce570676974025.txt
http://www.thenewsherald.com/articles/2013/06/15/news/doc51b8aaae32782459370503.txt
Posted June 6, 2013 13:39