November 27, 2012 14:53
As a taxi driver told me yesterday, things in Israel happen fast: wars, elections... even rain storms.
Soldiers are back from reserve duty, Ehud Barak resigned his post, Tzipi Livni jumped into the race- and the events of last week are like a distant memory.
Posted November 27, 2012 14:53

November 25, 2012 02:29
TEL AVIV - Of all the things to be concerned about in Santa Barbara, finding shelter in less than 90 seconds is not one of them. As the ceasefire goes into effect, a temporary lull has descended over Israel and the Gaza Strip, but the looming threat of rocket attacks and bombings casts a shadow over the lives of Santa Barbarans who have experienced the past week and previous outbreaks of violence.
Posted November 25, 2012 02:29

November 23, 2012 15:40
Keep an eye out for an upcoming article in the Santa Barbara News-Press: local reactions and perspectives on what is has been like to be in Israel over the past week.
"Daily newspaper serving Santa Barbara County since 1855. Includes local and world news, sports, business, and classifieds."
Posted November 23, 2012 15:40

November 21, 2012 17:52
Was in Ashkelon yesterday: found shelter from an incoming rocket within the alloted 15-20 seconds and saw the Iron Dome system at work (my shelter wasn't that secure...) No buses were running due south, the military had blocked off certain roads as well.
Later, I heard the results of an IAF sortie. From 10 or more miles away, the noise sounded like it was being generated by a Giant From Hell, stomping his feet. I've never heard anything like that.
Posted November 21, 2012 17:52

November 21, 2012 06:32
At scene of central Tel Aviv bus bombing earlier today. 28 injured. As one local said "Oh God, here we go again."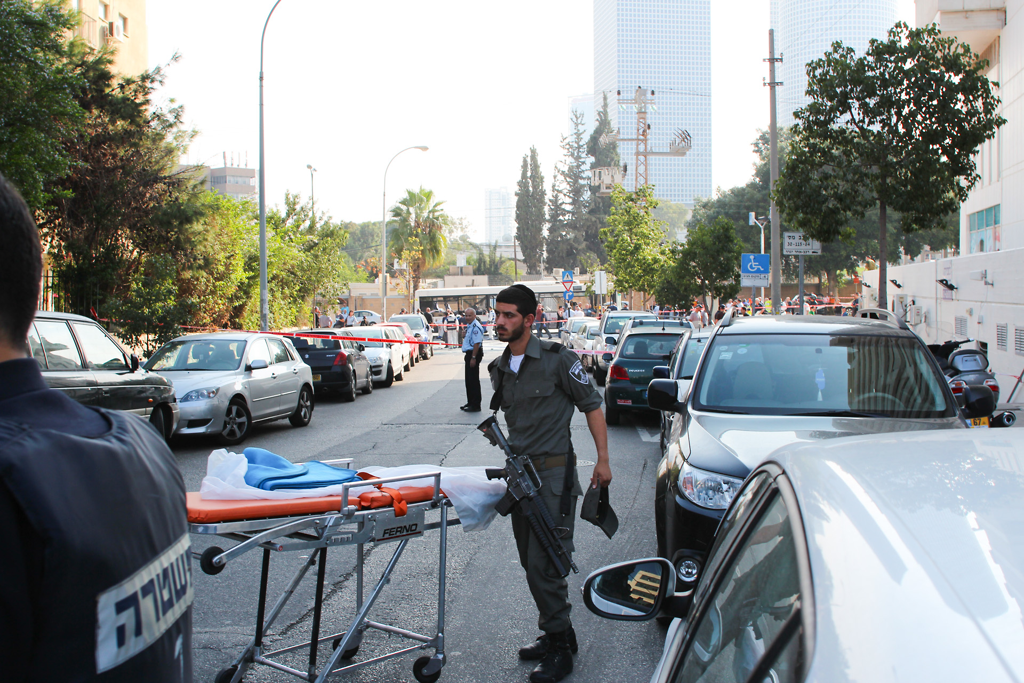 An Israeli military policeman brings a strecher to the scene of the bombing.
Posted November 21, 2012 06:32

November 20, 2012 13:50

November 19, 2012 13:33
Thank you, Best Western, for the bomb shelter... aka (what appeared to be) the staff storage/ changing room, which was good enough.
Posted November 19, 2012 13:33

November 15, 2012 10:09
Heard siren and explosion in Tel Aviv... the routine here seems to be: hear siren, go inside, wait, go outside, make phone calls, carry on with life.
Posted November 15, 2012 10:09

November 11, 2012 16:23
Coverage of two protests held on Nov. 11. One was to call on Yesh Atid chairman Yair Lapid to declare his intended coalition allegiances. The other was a march against, what has allegedly amounted to, NIS 27 billion in preferential tax exemptions for some of Israel's largest corporations.
Posted November 11, 2012 16:23

October 15, 2012 16:44
Tel Aviv soon. Looking forward to working with the Oakland Press-
Posted October 15, 2012 16:44

RSS Feed
Recent Blog Entries
Archive