Car Buffs Gather To Celebrate Israel's Little-Known Auto Industry

May 22, 2013 08:57
TEL AVIV - In the shadow of Nokia Arena, home of 5-time European basketball champion Maccabi Tel Aviv, dozens of vintage American, European, Asian, and Israeli cars were on display last Friday to commemorate the little-known Israeli car industry.
Despite a lack of publicity, the show drew hundreds of local admirers, in addition to members of the organizing group, The Five Club.
Between 1951 and 1981, Israeli Autocars Co. manufactured over 100,000 fiberglass-based cars, including the boxy "Susita" and the "Sabra" sports car. Additionally, Israeli factories assembled Studebakers and Fords, as well as Japanese Hino models, throughout the 1960s and 1970s.
"I find the whole concept of an Israeli car industry bizarre," said Club Member and Show MC Kobi Milo. "There is no logic to it, it was a pure enthusiasm of… Zionism during the early 50s that initiated it all, but now it's nice to look back and see."
Akin to the Dream Cruise, nostalgia held sway over many they looked at the cars, which included Israeli models as well as American classics such as a Buick Skylark, Chevy Corevette Stingray, Cadillac Fleetwood, GMC Sprint, Plymouth Special Deluxe, Ford Corsair, and Studebakers, amongst many others. Also present were a variety of Jeeps, military and not, post-war Mercedes Benz sedans, and old Israeli public transportation buses.
"Quite a lot of Israelis like American cars," said Mr. Milo. "When I was young in Israel, to have an American car, meant that you made it. They were bigger, more expensive, had some luxury stuff that, nowadays, you find in any Japanese econobox, but that in those days you could only find it in the Detroit cars."
"I adore American cars, said Amit Kanfi, from Rehovot, who was in attendance with his son and wearing a t-shirt which read " Oldsmobile Homecoming, Lansing 1994". "I love the length, and rear wheel drive, muscle engines, V8- I prefer it, of course!" he said.
Tel Aviv University film student Maya Katsir, from Tel Aviv, came because she likes old cars. "I like all different kinds, especially cars from the 1920s, but I've never seen a Susita. I've seen old cars before, but never Israeli ones," she said.
Though enthusiasm for classic American cars runs high in Israel, special challenges present themselves to classic car restorers.
"The main difficulty when you try to restore cars in Israel is the availability of spare parts. Here, you have good people who know how to repair the mechanics, body, paint, but to locate parts, this is the main issue," said Mr. Milo.
Import tariffs for American cars and parts in Israel run high, sometimes as much as 100%. There is also the problem of locating the parts and conducting business transactions from the opposite side of the world.
According to Ron Paz, spokesperson for The Five Club and Israeli government press liaison to the Asian, Latin American, African, and Economic press, the club imports 100-200 vintage cars per year from the United States.
"We prefer to bring them in from the U.S. West Coast, even if it's a European car," said Mr. Paz. They are better maintained and have less rust than from Europe because of the weather. Also, European families only had one car after World War II, where American families usually had two, so there is less wear."
Mr. Paz also said that Israelis prefer to deal with Americans for other reasons as well. "Right now, there is a good dollar to shekel rate, plus people in the U.S. speak English, like most Israelis, and also Americans are very reliable," he said.
The Five Club, which takes it name from the fact that, in 1950's Israel, cars were issued license plates with only five digits, also serves another important purpose for its members. "The main goal is to represent owners vis-à-vis the authorities: the Ministry of Transport and customs," said Mr. Milo.
He explained that prior to the formation of the club, importing vintage cars was illegal, for safety reasons, and that the special status of collector cars did not exist until 1993, after successful lobbying efforts by the club. This designation allows members to receive a 75% discount on insurance.
Mr, Milo explained that the vintage cars represent less risk, since they are driven less frequently than everyday cars. In exchange for these discounts, the cars cannot be driven between 7 and 9AM on workdays, which in Israel are Sunday through Thursday or Friday midday.
Collectors in Israel face other restrictions as well. For instance, they are forbidden from upgrading the car from its original performance specifications.
Despite these drawbacks, the vintage car scene in Israel is growing, with many cross-country rallies, weekly meetings and a weekly cruise night, which takes place in Tel Aviv, Haifa, and even Jerusalem.
Aside from the social, political, and business aspects surrounding the show and club, Mr. Milo pointed out that, for many, the thrill emanates from old memories, which resurface in the face of a relic from the past. "People see these cars and their first reaction is, 'Hey, my father had this car, as a kid I used to ride in this car!" he said.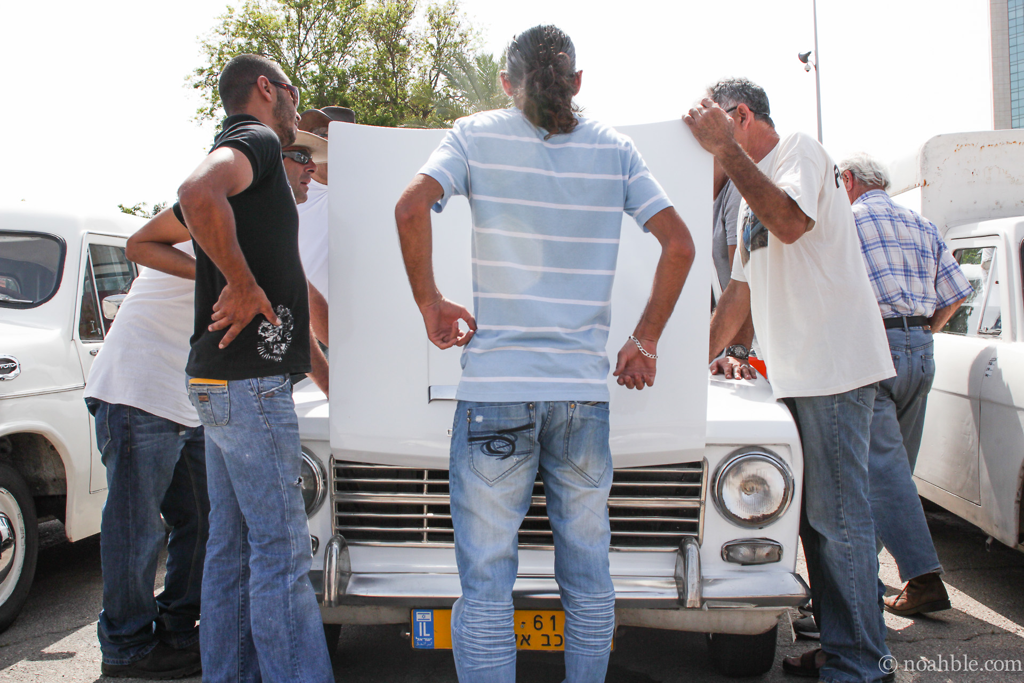 Locals look under the hood of an Israeli-manufactured "Susita" sedan.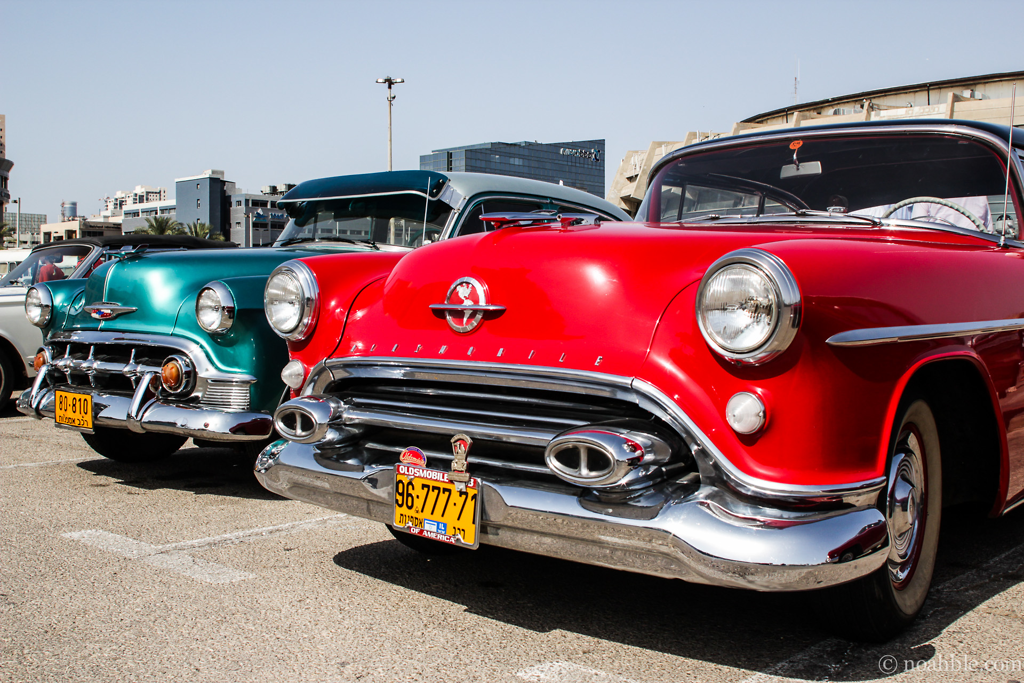 A 50s-era Cadillac sits next to its contemporary Oldsmobile model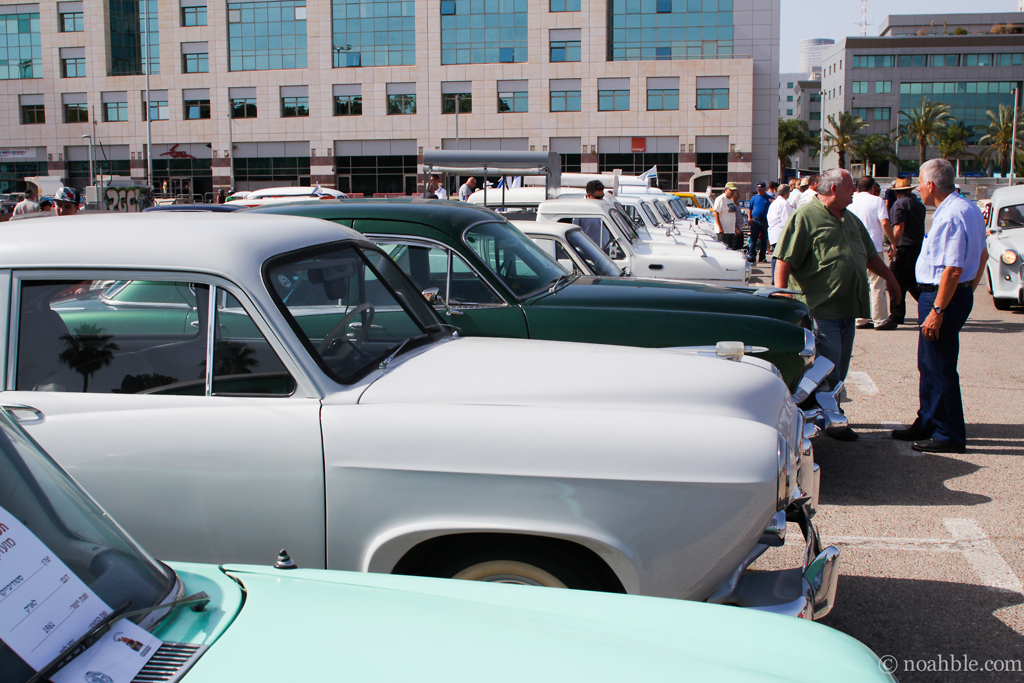 Israeli-made cars, produced from the 50s until the early 80s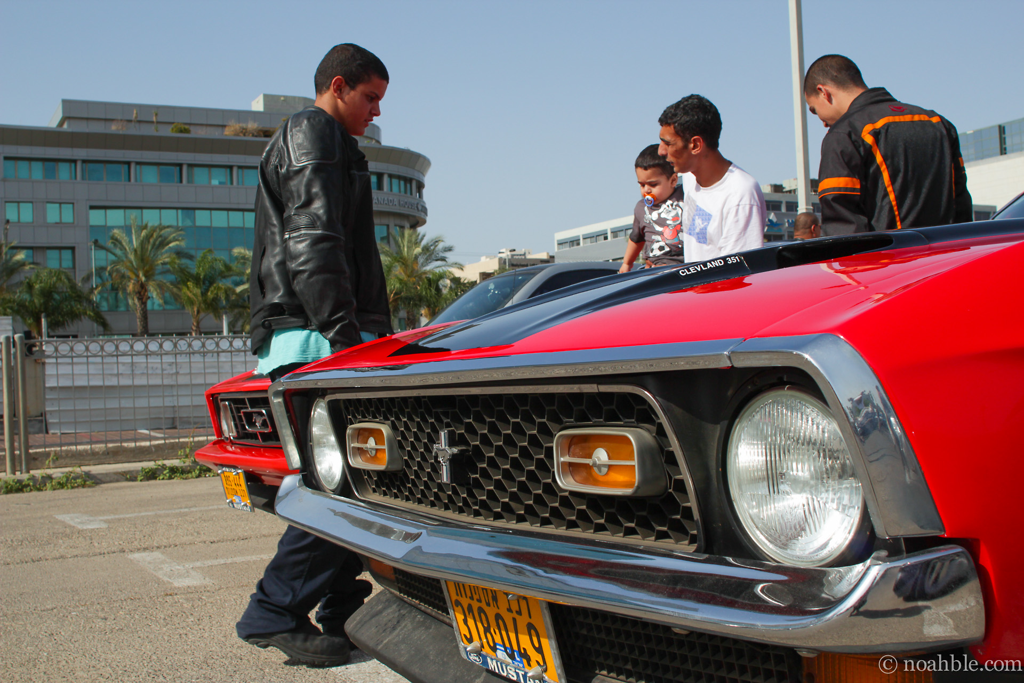 Locals inspect 70s-era Ford Mustangs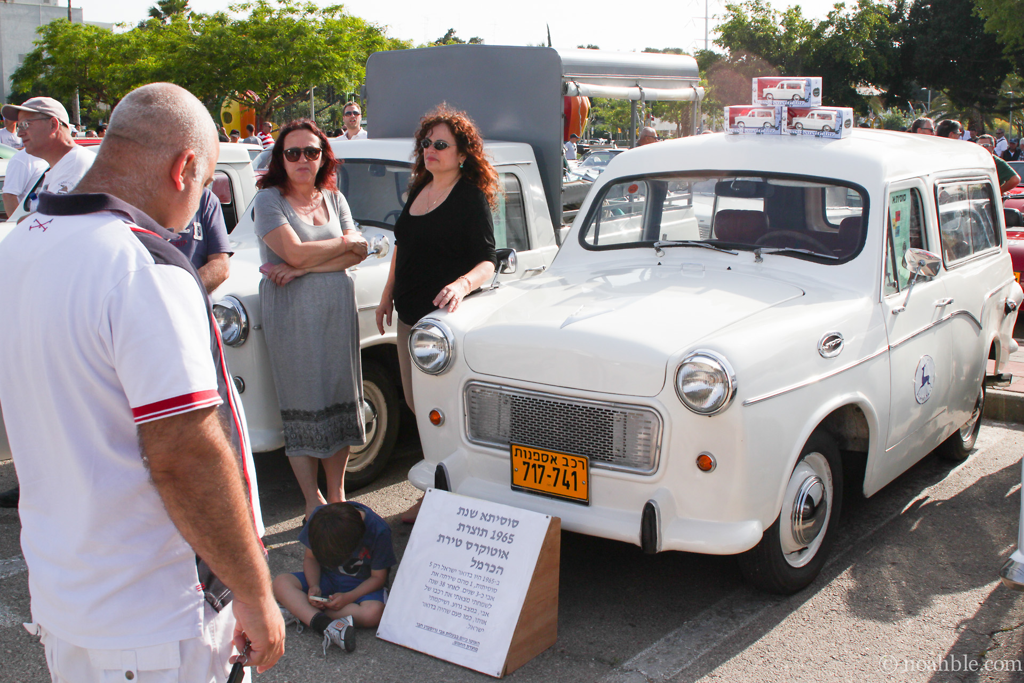 A 1965 Israeli "Susita" with an Israel Post decal on its door
Article Links:
http://www.heritage.com/articles/2013/05/22/heritagewest/news/doc519bb0d5ad4e9310321720.txt
http://www.thenewsherald.com/articles/2013/05/21/news/doc519baf0b3b25b285619973.txt
http://pressandguide.com/articles/2013/05/22/news/doc519bafec51c16292774846.txt
http://sourcenewspapers.com/articles/2013/05/21/news/doc519baf0324010483012968.txt
Posted May 22, 2013 08:57