After Israeli Election, Development Still Hot Issue

February 6, 2013 04:53
JERUSALEM - With Israeli Prime Minsister Benjamin Netanyahu retaining power in last month's election, future construction in the E1 area will remain at the forefront of international controversy. The most visible battle between Israelis and Palestinans in the past few months, the issue arose after the Palestinian bid for upgraded, "non-member observer state" status at the United Nations. Following this, PM Netanyahu announced plans to develop homes for Israeli citizens in an area referred to by the Israeli government as E1 ("East 1").
In the latest development, Palestinians and foreign activists erected a tent city called "Bab al-Shams" in the E1 area, which was dismantled by Israeli forces earlier this month.
The area, which is approximately five square miles in size, is controversial because it is situated in an undeveloped, yet strategically-important, area. E1 is situated between Jerusalem and the Israeli city of Ma'ale Adumim, , an Israeli town of about 40,000 people, to the east. If Israel were to build homes and infrastructure in E1, it would create a continuous link between Jerusalem and Ma'ale Adumim. Opposition groups state that such construction would weaken the potential for Palestinian control of East Jerusalem in a future peace agreement.
For most people around the world this issue is an abstract problem with no direct consequences. Yet, for long-time Jerusalem resident and educator Margie Tutnauer, from Detroit, the matter concerns, what amounts to, her backyard.
Tutnauer lives in the northern East Jerusalem neighborhood of French Hill, which is located next to Hebrew University and is built on land that Israeli took from Jordan in the 1967 war. Today, French Hill is an established and integral part of Jerusalem even if, down the hill and across the road from it, lies the Shuafat Refugee Camp.
"After 40 years in Jerusalem, I have seen so many changes and so much building," Tutnauer said.
"There are many who would regard French Hill as a neighborhood of questionable legality. I definitely believe that both Jewish and Arab citizens have to learn to live together. If new neighborhoods are going to built in E-1, there should be Jewish building and Arab building," she said.
After a couple minutes of driving down a hill and through a tunnel, one emerges from the bustle of French Hill and Hebrew University into the mostly barren hills of E1. Another few minutes is all it takes to cross E1 and arrive at Ma'ale Adumim.
45 MINUTES AWAY FROM AMMAN, BY TANK
In 1975, Ma'ale Adumim was conceived as a bedroom community for workers in Jerusalem. New tract (mostly apartment) housing, freshly-paved roads, large shopping centers, and diverse kids running around evoke a sense of being in some random American suburb. They also speak to the intended permanence of the city.
Eli Raz, now working as a deputy director at the Moshe Castel Museum of Art, was a founding member of Ma'ale Adumim.
"One month after the 1967 war, I rode in a jeep with (General) Moshe Dayan and Rachel Yanait Ben-Zvi (author and wife of the second president of Israel, Yitzhak Ben-Zvi). That was the first time I saw this land and knew it would be perfect for a town, on top of this hill," he said.
Having just fought in the war, Raz assessed the location of the town in terms of topography in addition to proximity to Jerusalem- and Amman.
"We are only 45 minutes away from Amman, by tank," he said, reflecting the ideology that towns such as Ma'ale Adumim can act as a buffer against future attacks by helping establish more defensible borders.
Raz believes that construction in E1 is also necessary to help solve what he said was a housing shortage among Ma'ale Adumim residents and their families, forcing them to move to other satellites of Jeruslaem..
"There is no more available room in Ma'ale Adumim, our kids have to move to Modi'in," he said, referring to a town about 20 miles from Jerusalem.
Raz's beliefs are also driven by his lack of faith in a future peace settlement with the Palestinians.
"I am Iraqi, I know Arabs, I know what they think. Arabs can't make peace, it is holy land for them. They never will," he said.
Raz's distrust of the Palestinians also extends to the Israeli government's ability to adequately provide for Jews that they forcefully evacuate from their homes. This is born of the failure of the government to resettle many of the civilians it evicted from the Israeli settlement bloc of Gush Katif in Gaza back in 2005.
"There are still 600 families without housing from Gaza, so they will take 42,000 and find them housing?," he said.
"This is part of Jerusalem, I will never leave."
STATION ON A HILL
On an adjacent hill from Ma'ale Adumim, in the E1 area, is an Israeli police station. The building sits isolated among the undeveloped hills. Yet, the road leading up to the station is a three-lane highway, which seems to indicate a strong intention for future construction and development in the area.
The entrance to the station was fortified, akin to a military base, and entrance was limited to those on official business. A guard at the station, who asked that his name be withheld because he was not authorized to speak to the press, held a differing view of the land and situation.
"Me? I don't care about this land. If there will be peace, good, we can give it to them (the Palestinians)," he said
In front of the station, a few men smoked cigarettes while they milled about and enjoyed the open vistas afforded by the unimpeded hilltop location. As he waited for his friend to finish his business inside. Mohammad Sabah, of Ras Al-Amud, an East Jerusalem neighborhood, took a wider view of the E1 controversy.
"Before (Yasser) Arafat, Jews and Arabs were like one big family, we ate together… wherever Arafat went, he spoiled things, like here," he said.
"I want that there will be one state for everyone, not a Jewish state and not a Palestinian state. Just one state," he said, outlining a popular view amongst Palestinians, one that assumes a future Palestinian majority in such a state.
Driving back towards central Jerusalem, the mixed nature of the city was on full display. A group of teenage secular Jews stood on the light rail next to two elderly religious Muslims. An American tourist shopped at a local Christian vendor's booth, A Japanese tour group gathered outside the Old City walls. People of all faiths, of all races, sat in a local hummus restaurant, enjoying a food whose ingredients have been eaten by all peoples of this region since time immemorial.
"The local supermarket, bank and post office are places that we all meet and mingle and are treated equally," said Tutnauer.
"I would never want the city to be redivided."

View of E1 from Ma'ale Adumim looking towards Jerusalem. Hebrew University is located on the hills in the distance.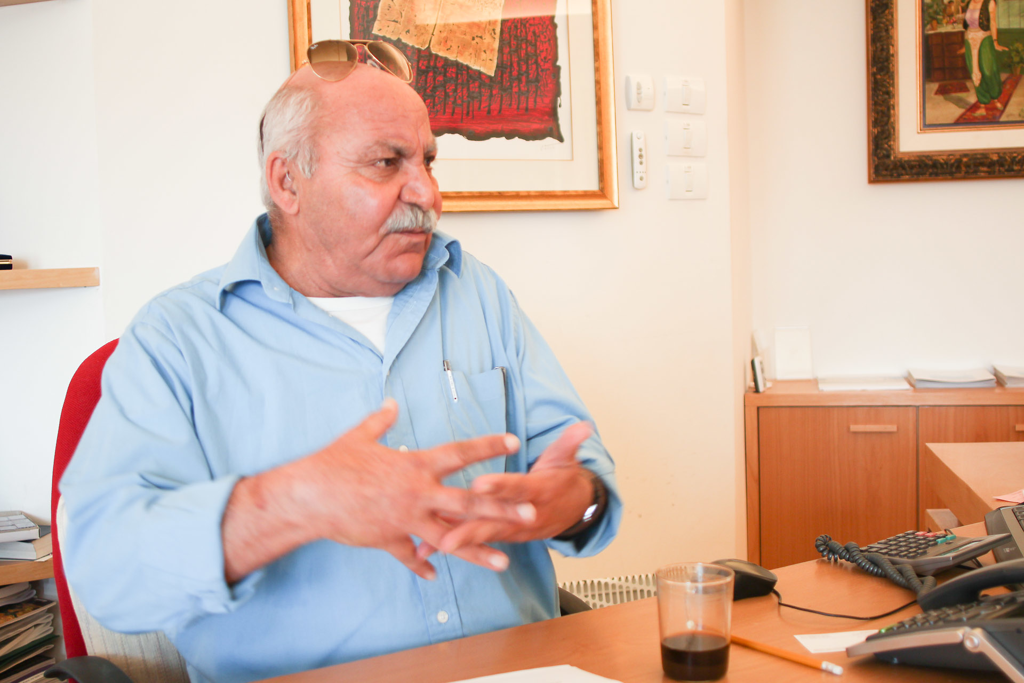 Ma'ale Adumim Founder Eli Raz shares his views on the history and importance of the land from his office in the Moshe Castel Museum of Art.
Article Links:
http://www.pressandguide.com/articles/2013/01/29/news/doc51084eb7f20e1694896867.txt
http://www.thenewsherald.com/articles/2013/02/03/news/doc51084b84171d3642899445.txt
http://www.theoaklandpress.com/articles/2013/01/29/news/doc51084158bb737023740756.txt
http://www.heritage.com/articles/2013/01/29/heritagewest/news/doc51084f266523f317898209.txt
Posted February 6, 2013 04:53