Skippy, Sex Shops, and Bagels: A Taste of NOLA in Israel

February 4, 2013 01:41
TEL AVIV - It is sacrosanct that bagels, mandel bread, and corned beef are Jewish foods. Yet, in Israel, exactly none of them are considered particularly Jewish. Maybe it can be chalked up to the intentional distancing that Israel's founders wanted to make from their Ashkenazi origins, but Israelis tend to be much more eager to go for Jachnun (a Yemenite pastry) on the weekend than a bagel and lox.
NOLA is a new American-style bakery in Tel Aviv that is attempting to not only bring American Jewish food to Israelis, but also homestyle American fare in general. According to Owner Talya Rasner, it has not always been so easy, especially when you are trying to be as authentic as possible.
"I knew what I wanted, so it actually made it harder, since I didn't want to settle for less," said Owner Talya Rasner, who moved from New Orleans to Israel with her parents when she was eight years old.
Rasner's commitment to this ideal is evident in the bakery, both in terms of food and setting. The peanut butter cookies and pies are only made with Skippy peanut butter and the cheesecakes are only made with Philadelphia cream cheese.
The interior of the restaurant evokes a feel of the post-war era with its black, white and pastel tile motif, color design and furniture. Old cereal boxes on the shelves and the sweet sounds of Sam Cooke and his contemporaries add to the scene.
Having a background in design, Talya takes the details very seriously- and is willing to sacrifice for it.
While ingredients like Crisco and Skippy and Philly cream cheese are readily available in the U.S., it is much harder to find them in Israel.
While doing taste tests for their baked goods, Talya and her head pastry chef, Harriet Sternstein, now an award-winning pastry chef, but with a 20-year background in occupational therapy and clinical psychology, decided that that they needed Crisco for pie crusts, locally-sourced substitutions simply would not work.
However, according to Talya, there was only one store selling retail Crisco. A sex shop. So, braving the quizzical look of the cashier, she went in and bought Crisco. A lot of Crisco. While paying, Talya said that she was buying the Crisco so as to bake with it, to which the cashier responded, "People bake with this?"
Other lengths to which the NOLA team goes to chase down ingredients include having to buy 15-30 kilos of Philadelphia cream cheese at a time. It can be a hassle, but it's worth it, says Sternstein.
"When someone comes in they know they're going to get what they are expecting," she said.
Maja Sherman, 24 (Jewish Academy, University of Michigan), an environmental policy analyst, went to NOLA after seeing that it billed itself as American bakery.
"It was intriguing to me to see if they were being truthful when they called themselves an 'American bakery', so I went to see," said Sherman jokingly.
"It's definitely an American bakery. I think they definitely have things that most Israeli menus don't have, baked goods are a big one, especially bagels. I'm happy they have biscuits. I haven't tried them yet, but I'm glad they have them since biscuits are a very southern food and it's called NOLA," she said,
"If someone asked with they could get American-style baked goods, I would definitely point them to NOLA."
Madeline Gysi, 23, who grew up in Los Angeles and is a first-year medical student, heard that NOLA served American food and was similarly curious.
"It was exciting, you can't always find those foods here. I was most excited to find bagels and lox. Also, pancakes which are not necessarily easy to find here," she said.
"When I first came to Israel, I was surprised that they didn't have normal Jewish deli food, you can't find bagels at the supermarket, you can't usually buy matzoh ball soup, even though people make it at home."
"Sometimes you find American food on menus here, but its usually disappointing. The owner knows how to make things authentically since she's American. It's a nice little American haven."
For Rasner, this sums up the goal of NOLA. The recipes are from her mother's cookbook and it is important to her to be faithful to them.
"I was going to stick to the concept of things being American," said Rasner.
In practice, this means rich, sugary Mississippi mud pies, cupcakes, and brownies. It also means that chocolate chip cookies that are crispy on the outside and chewy on the inside, something that is easy to take for granted, until you can't find cookies with such a texture. The same goes for birthday cake.
"It's a specific thing, any cake doesn't work," says Rasner about the American-style birthday cake which is hard to find in Israel. "So, when people order it, we can make a real birthday cake for them."
NOLA's menu extends beyond sweet baked goods and includes American mainstays, which turn out to be very hard to find in Israel, like pancakes, macaroni and cheese, grilled cheese, and bagels.
These items have proven to be popular with the mix of Israeli and American customers that frequent NOLA. The bagels, in particular, have been such a hit that customers are now limited to two bagels per order.
"We can't stock enough of them," says Sternstein.
Of course, these new tastes have not been universally accepted in the city. Rasner relates a story about one customer who had an empty cupcake wrapper on her plate, but said that she did not like the topping, complaining that it was butter and sugar.
"So I said to her, I'm sorry you didn't like it, but this is a classic vanilla cupcake, so yeah the occasional person doesn't get it, but if I don't make it that way, what's the point?" said Rasner.
With Rasner and Sternstein, it is clear that they are not simply trying to offer their guests a sampling of American food, but rather are trying to create a total, authentic experience. This effort has been rewarded with strong local and international media reviews and a regular customer base that has developed after only six months.
"Talya has the same passions that I do," says Sternstein.
"She has a design perspective and for me it's about the art and beauty and food, it feels good here, it feels right."
NOLA Owner Talya Rasner (right) talks shop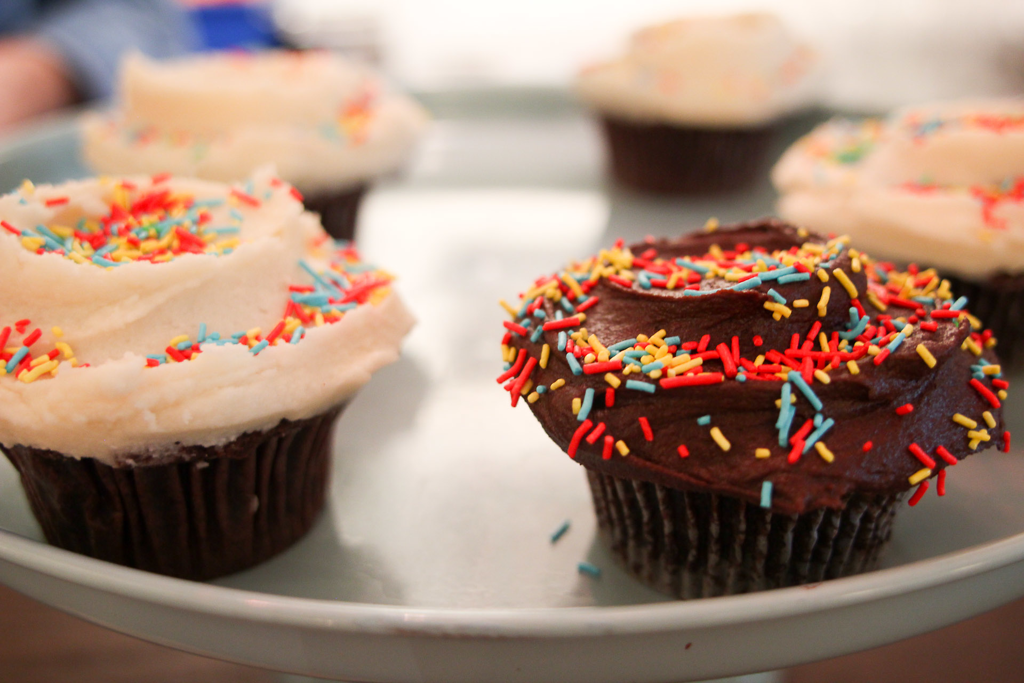 Cupcakes at NOLA are made from old family recipes, using American-sourced ingredients
Article Links:
http://www.pressandguide.com/articles/2013/02/12/news/doc511a894f52550003758978.txt
http://www.thenewsherald.com/articles/2013/02/12/news/doc511a8745dda51679214236.txt
http://www.heritage.com/articles/2013/02/12/heritagewest/news/doc511a889b06303604103961.txt
Posted February 4, 2013 01:41