Santa Barbara Grad Dances For Company In Israel

July 6, 2013 07:34
TEL AVIV - Lilting reggae music filled the air as young children and their parents entered the performance room for the regular Saturday afternoon show. Seating was arranged along each wall, leaving an open space in the middle. Large windows allowed for ample natural lighting, as well as views of the nearby red tile roofs. As the dancers walked in, the scene could well be set in Santa Barbara, instead of Tel Aviv, Israel.
Throughout their season, the internationally acclaimed Israeli Batsheva Dance Company performs a show entitled "Kamuyot". The target audience is children, and one of the aims is to help them develop an early appreciation for dance, movement and art.
One of the dancers in the company had such a love ingrained within him, only it happened thousands of miles away, in Santa Barbara.
Shane Scopatz, 24, (San Marcos HS '07), developed his craft with Denise Rinaldi and Valerie Huston at the Santa Barbara Festival Ballet.
"The Santa Barbara Festival Ballet was really good training for me… it gave me a lot of experience, at the Arlington theatre and other really big venues," said Scopatz. "It gave me a platform and ground to stand on."
Scopatz credits Huston with having influenced him greatly. "She really helped me with my idea of going to college and what a career in dance would be like," he said.
Despite currently working on the other side of the world, Scopatz maintains his connection to the SB dance scene.
"Whenever I'm home, I take Susan Alexander's class. It's a really pleasant thing to do. It's all these great Santa Barbara women and a lot of fun," he said.
Scopatz's path to Batsheva and Tel Aviv began during the summer after his junior year at UC-Irvine, where he was studying on a dance scholarship. He attended a program at the San Francisco Conservatory of Dance. There, he was introduced to the "Gaga" technique of Ohad Naharian, artistic director of Batsheva, recipient of the Israel Prize, and Knight of the Order of Arts and Letters (France).
"It was basically something I just fell in love with, like coming home in a way," he said.
Enamored with the technique, Scopatz traveled to Israel two times and enrolled in classes offered by the Batsheva Dance Company. On his second trip, he auditioned for a part in the company.
"While I was waiting for the audition, I ended up moving into a one bedroom apartment in Tel Aviv with three girls, which was an amazing test of patience, but also really fun."
After the audition, he had to wait more than three months to hear if he got in, during which time he moved back to Santa Barbara.
"It was terrible. I was like biting my nails at home, thinking what's going happen with my life?"
Scopatz was offered a place in the Batsheva Ensemble, which is a group comprised of dancers aged 18-24 and is the group from which most of the main company dancers are selected.
"Gaga (the technique created by Naharin) is an improvisational-based technique and it's also somatic and about experimenting and researching with the body and mind at the same time," he said.
"You go through all these exercises that have a link through imagery or sensations, so it's not like a ballet class where you stand at the bar and do four things this way and then turn. This is more research about the body and how I can move my body and flavors I can taste… it's that sort of heady research I really enjoy," he said,
"It's an avenue to learn more about myself and my body, so you build up all these tools so that you can perform his work."
Scopatz was clear in stating that he is in Tel Aviv for the work. Yet, this commitment to his craft has not prevented him from appreciating the unique setting in which he works.
"I like Tel Aviv, it's a really great place to live, it's by the sea. Almost nowhere else in the world will you be able to wake up and go to your dance studio, if you're lucky enough to be in a company job, and, while you're warming up, look out your window and see old Jaffa and the Mediterranean Sea. It's a really beautiful place to work and I also like that it's a relatively small city, so it doesn't have the soul sucking aspect that New York does," he said.
Alongside the benefits of working with Batsheva come some unique challenges as well. On a recent tour of the United Kingdom, Scopatz experienced protests at every show.
"They protested outside and then people would stand up during show and started yelling things. People who just wanted to see a dance cultural experience were getting shouted down by protestors," he said.
The ensemble was prepared for the disruptions and continued their performance in spite of the disruptions. Scopatz, like Batsheva, is not politically active and was confused as to why the protestors directed their anger towards a dance company.
"The work we are doing has no comment on Israeli politics at all, it just a piece of art. I wonder if protestors know that we actually use Arabic music in some of the parts of that piece," he said.
Because he has traveled to Israel previously, Scopatz had a sense of what it would be like to live there.
"Coming to Israel, you know there is a political rain cloud, but it's not like I'm here to change something or be proactive regarding the situation," he said.
It also helps that his family is behind him, vis-à-vis his decision.
"My family supports me a lot and they see how big of a career move this is, so if they are scared or nervous, they don't tell me because they want to support me.
Back at the Kamuyot performance, an eclectic range of music, from techno to reggae to surf rock to indie to punk, played as the dancers exhibited 50 minutes of non-stop movement. The dancers mixed with the audience and even invited children to become a part of the show.
If, before the show, some of the children looked as if they were dragged to the performance, after only a few minutes many were enchanted. In fact, by movement alone, the dancers were even able to elicit laughter from the kids.
Perhaps the best indicator of the success of the show can be found in the fact that, upon its conclusion, children emptied into the stage area and excitedly imitated the moves they had just seen.
As the language of dance can appeal across ages and locations, while watching Scopatz's work with the ensemble, it would be impossible to know he is the only American in the show. The ensemble moves with a synchronized grace that naturally transcends nationality and other such identities.
Scopatz learned in March that he will be performing with ensemble next year as well, and is looking forward to continuing to dance with Batsheva.
Though he is aware of the tenuous nature of a life as a performing artist, he is not deterred.
"I will be movement artist for the rest of my life," he said.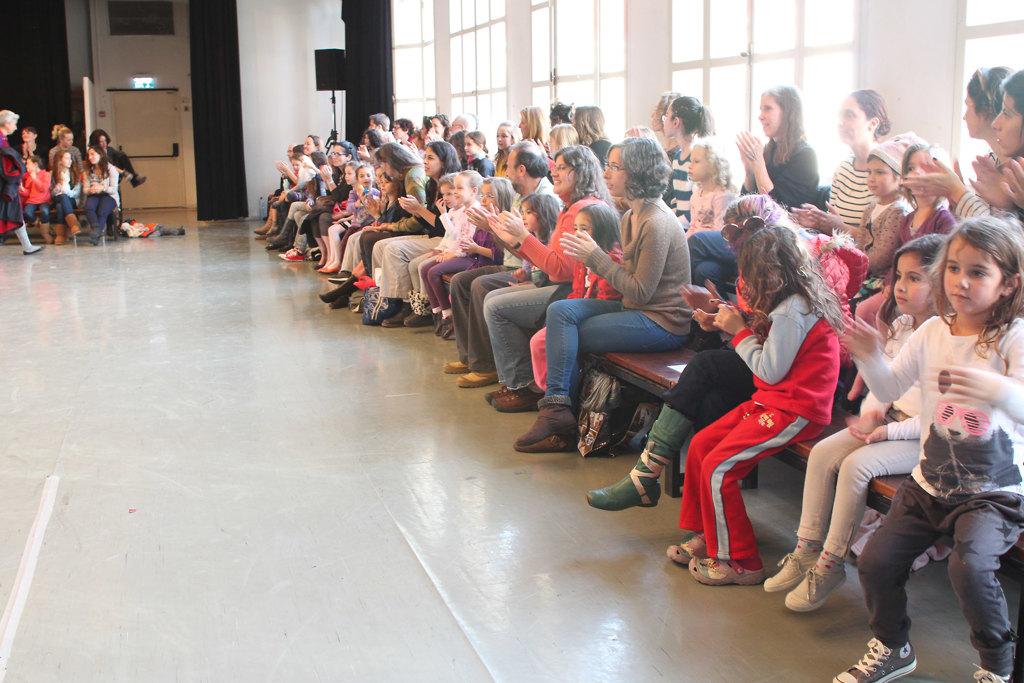 Children and parents enjoy the afternoon dance performance of "Kamuyot."
Shane Scopatz rehearses movement.
Article Link:
http://www.newspress.com/Top/Article/article.jsp?Section=LOCAL&ID=566726463135547426&Archive=true
Posted July 6, 2013 07:34