Michigan Governor Visits Israel

June 19, 2013 05:00
TEL AVIV - Michigan Governor Rick Snyder met with Israeli Prime Minister Benjamin Netanyahu, as well as a host of other high-ranking Israeli officials and business leaders, during the initial days of his investment mission to Israel as he continues to try and build business ties between the Jewish state and Michigan.
The meetings resulted in a letter of intent to establish the framework of future cooperation between Israeli and Michigan-based companies.
Economics Minister Naftali Bennett thanked the governor for his support for Israel and said the Israeli government is working to reform the way of doing business in Israel and to promote the growth of the economy in Israel.
Bennett said he believes that Israeli industry can contribute a lot to the economy of Michigan, specifically in the areas of car technology, water technology, and security software.
Mark Regev, spokesperson for Prime Minister Netanyahu said the meetings were "very good and focused on a series of issues regarding expanding cooperation between the state of Michigan and state of Israel."
Snyder's goal is to interest Israeli businesses in choosing Michigan as their base for overseas operations.
"Israel's very good at having the technology developed, coming up with the idea, but then there is this question about entering the larger market," he said.
Snyder hopes to supplant Europe, which has traditionally been a major destination for Israeli companies that operate abroad.
He said that the economic downturn in the past few years, has caused Israeli businesses to look beyond Europe as its main export market and base of foreign operations.
Snyder pointed out that it is much easier to do business in the U.S. since a company only has to deal with one set of federal regulations, whereas Europe has a more complex regulatory environment.
Within the U.S., Snyder is competing against coastal states, which are more well-known and established internationally when it comes to bringing in foreign companies and investments.
"I am biased obviously, but we're a better answer than either coast, whether it be a business or personal environment," he said.
Snyder mentioned the lower costs of doing business in the state as well as the more business- friendly regulations he has put in place as reasons why a company should come to Michigan. He also noted the benefits that arise form working with people who were raised with a "Midwestern work ethic. "
Snyder identified a few industries that he feels are the most promising fields for future cooperation between Israel and Michigan,
"If you are going to be doing automotive work, you should be in Michigan," he said.
Beyond the automotive sector, Snyder said the life sciences, water technology, healthcare systems, and aerospace/defense industries are natural fits to be doing business in Michigan due to the existing infrastructure and resources found in the state that can support such growth.
In pitching Michigan to foreign companies, Snyder acknowledged the storied past of the state, but also confronted the challenges that have faced the state.
"Michigan in many respects was the Silicon Valley of the world in the early part of the last century… Detroit was a bigger success story than Silicon Valley ever was in the context of the rest of the world, and it wasn't just cars," he said.
"What happened is, we sort of took it for granted. In the mid-60's or so, we started going downhill. So, we had a 50, 60 year run of going downhill until we essentially crashed."
"Fixing Michigan was not good enough, it was about reinventing our state," he said.
Snyder feels this is the path Michigan is currently on. "We're the comeback state in the United States," he said .
Snyder has been on four previous missions during his time as governor, including visits to Canada, China, Italy and Germany and a mission to Japan, China and Korea.
Chen Zohar contributed to the reporting of this article.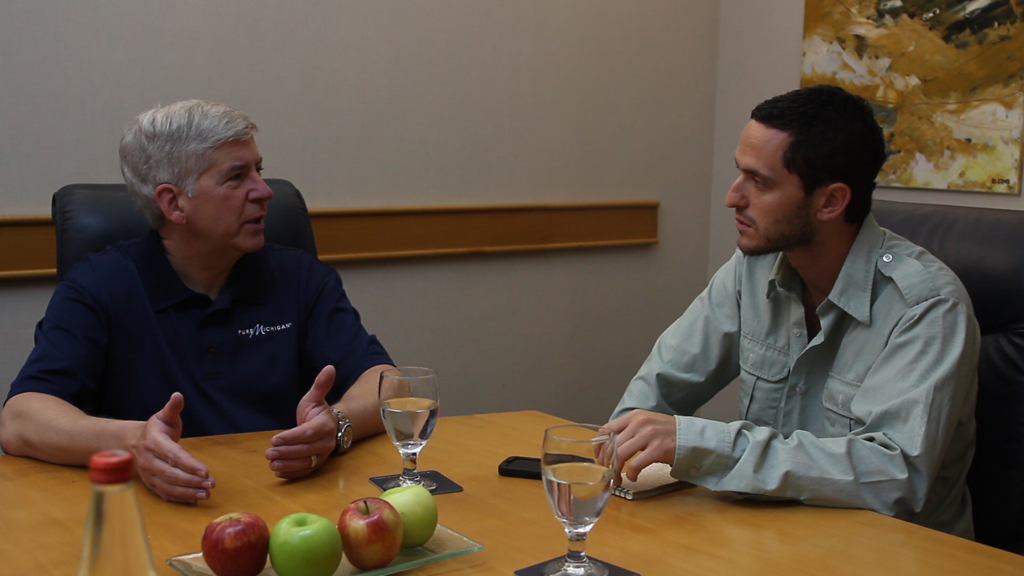 Gov. Snyder, in Tel Aviv, speaks with Correspondent Noah Smith about his 9-day trade mission in Israel.
Article Links:
http://www.heritage.com/articles/2013/06/18/heritagewest/news/doc51c0d82def130863024470.txt
http://www.pressandguide.com/articles/2013/06/18//news/doc51c0d8261e347495112873.txt
http://www.theoaklandpress.com/articles/2013/06/18/news/local_news/doc51c0ddfdca9cc964629215.txt
http://www.sourcenewspapers.com/articles/2013/06/19/news/doc51c1b8926b5ea682088191.txt
http://www.thenewsherald.com/articles/2013/06/19/news/doc51c0d6ad2b46b258892536.txt
http://digitaljournal.com/article/352665
Posted June 19, 2013 05:00