Raymar Morgan At Ease Playing in Israel

December 19, 2012 14:38
NETANYA, Israel - About 6,000 miles separate Netanya, Israel and East Lansing, Michigan. Yet, for former Michigan State basketball star and current Barak Netanya star Raymar Morgan, the distance seems much shorter.
"Adjusting wasn't really too hard. When I first got here, I was most surprised by just how Americanized it is, it's not too much different than America, looking at all aspects of it. The game is not too much different. Socially, everyone speaks English, so when you want to go to the store, or go out, it's easy to adjust and to adapt," Morgan said.
Now in his third season playing in Israel's top league, Morgan has played on three Israeli teams as well as a short stint in Turkey during the 2011-2012 season. Despite all of the traveling, Morgan said it has been easy to connect with his Israeli teammates and feel comfortable.
"The interactions (with Israeli teammates) are great. Their second language is English, everyone usually speaks English, and I can't say one bad thing about any of them, from their personality and how they welcome you… I would say that I've been definitely been able to bridge the cultural gaps with basketball," he said.
Morgan's luck in finding a place so accessible to Americans, especially American basketball players, was not completely by accident. A distinct advantage of playing basketball at Michigan State University is that it affords one entry into the tight-knit family of current and former players.
This was evident in hearing Morgan talk about his preparation before coming to Israel. In fact, one of the people he spoke with, Thomas Kelley, graduated ten years before Morgan.
"I talked to KT (Kelvin Torbert), TK (Thomas Kelley), Alan Anderson played over here as well. The thing is, when you come over here, you kinda come over with your eyes closed, so I definitely picked those guys' brains as much as possible… I heard good things about playing in Israel and it was the best offer also."
Morgan had a wide network from which to gain insight. Some recent examples of former Spartans who have continued their careers abroad include Marquise Gray (Mexico), Travis Walton (Germany), Drew Neitzel (Germany), Paul Davis (Spain), Goran Suton (Italy), and Kalin Lucas (Turkey).
NEW REALITIES
Still, even after hearing the promising advice regarding Israel, Morgan was not completely settled on moving to the Middle East. Asked if he was concerned about the security situation in Israel, he responded, "Of course!"
Yet, he acknowledged that his family was more worried than he was and that he probably would have felt the same no matter where he went, since it was his first year after college.
Though he feels comfortable in Israel now, his comfort level was certainly tested during the recent flare-up of violence. Though no ordinance landed in Netanya, the city is located a mere 20 miles from Tel Aviv, which was within range of the Hamas-fired rockets.
"It was a deep concern, my family was worried, I was looking at CNN every day, getting all these updates on my phone every 5 minutes... there was definitely a time I wanted to go home, and wait it out, but I guess they finally came to peace."
Despite the success Morgan has found playing abroad, and the quickness with which he was able to acclimate to a new country, some things are simply not like home (beyond the occasional threat of rocket attacks, of course).
In both his junior and senior years, Morgan played on teams that competed in front of more than 70,000 people, and millions watching on TV, in the NCAA Final Four. This was in addition to regular season home games at the Breslin Center, which can (and for Spartan home games does) hold 15,000 people.
In Netanya, the stadium has a capacity of close to 1,000.
"It's crazy, the atmosphere I came from and where I'm playing now, you start to appreciate what you came from. At the end of the day though, I'm grateful to still be playing basketball and still be living a part of my dream, which is playing basketball," he said.
Another difference is the degree to which players have to take responsibility for their own development.
"It's all on you over here. I feel like if you don't push yourself, you're not gonna get better. Whereas in college you got managers to shoot with, the gym's always open, over here we rarely see the gym for extra shots and different things like that. If you don't find the time to improve and get better on your own, you won't."
Beyond the court, Morgan said that he has also become more appreciative of other, more basic aspects of being at home.
"Other than family and friends, probably the thing I miss most is the food, you know, going to Taco Bell late at night. It's tough, you can't just go to your favorite place to eat, which for me is J. Alexander's. Just not being able to go there hurts my soul," he said jokingly.
GAMETIME ADJUSTMENTS
Much like everyday life in Israel compared to the U.S., basketball in Israel is largely similar to the U.S., though with subtle differences. One example is the stereotype regarding the lack of physical play exhibited by European forwards and post players, which Morgan has found to be largely accurate.
"In Israel it's more pick and pop, instead of pick and roll. Forwards and centers are more athletic, more undersized, but more athletic and can shoot," he said, referring to the propensity of front court players to try to attack the basket (pick and roll), as opposed to shooting from the outside (pick and pop)," he said.
"In my case, I'm either too quick for some 4's (power forward- Morgan's position) or a lot stronger than the other 4's."
Despite this, he has still taken the initiative to expand his game, in particular in regards to shooting.
"I'm shooting the ball a lot more from the outside, whereas in college I went for the basket. My long range shot has improved."
In three games this season, Morgan is shooting just under 60% from inside the 3-point line and 50% from beyond, while averaging 12 points and 5 rebounds a game.
He has only seen limited action due to a serious knee injury, sustained last season, that kept him out until a couple weeks ago.
The knee is about "80%" according to Morgan, who says he feels it feels good, and that it is getting better each week, but it's going to take time.
Morgan's overall production in Israel has reflected the type of player that he was at MSU. In his rookie season playoff run in Israel, he averaged 17 points and 5 rebounds and went on to average 15 points and 7 rebounds in his second year.
Despite battling illnesses and injuries, he was one of only five players who have scored at least 1,500 points and grabbed 700 rebounds for MSU.
Morgan's other accomplishments include being unanimously voted team co-captain in his senior year, leading the Big Ten in field goal percentage in league play (56%) during his senior year.
He finished his collegiate career in the top 10 leaders in five major categories, including games started (119), free-throw attempts (569), free throws made (384), career rebounding (767 rebounds) and career scoring (1,593 points).
IF IT'S STILL IN YOUR HEART
Going forward, Morgan is focused on continuing to improve his own game as well as elevating the play of his teammates.
"My goals are to keep improving, get back on a winning streak, keep improving my numbers, my personal goals along with the team goals, make it to the Israeli Final Four and win something, win a championship."
Morgan has grown from his experiences overseas and sees it as more than just about basketball.
"Its been a great experience. When I first came here I thought it would be just desert and camels and some third world country-type atmosphere, but over here its nice man. If basketball is still in your heart and you still want to play, do it, man."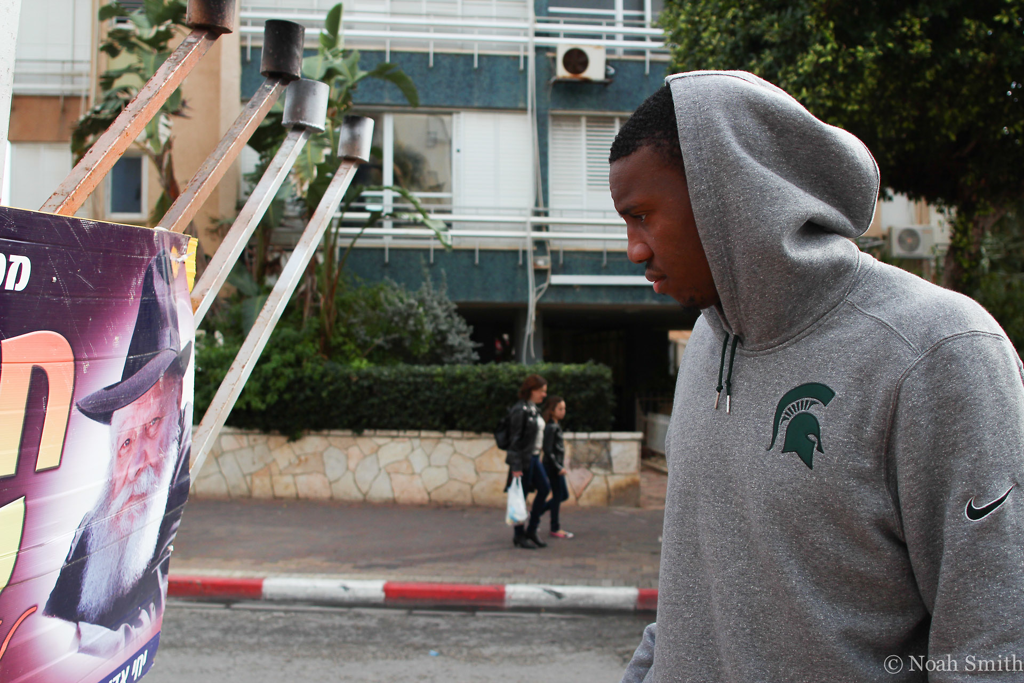 Raymar Morgan looks at a photo of Rabbi Menachem Schneerson, late leader of the Haredi Chabad movement, on a Menorah.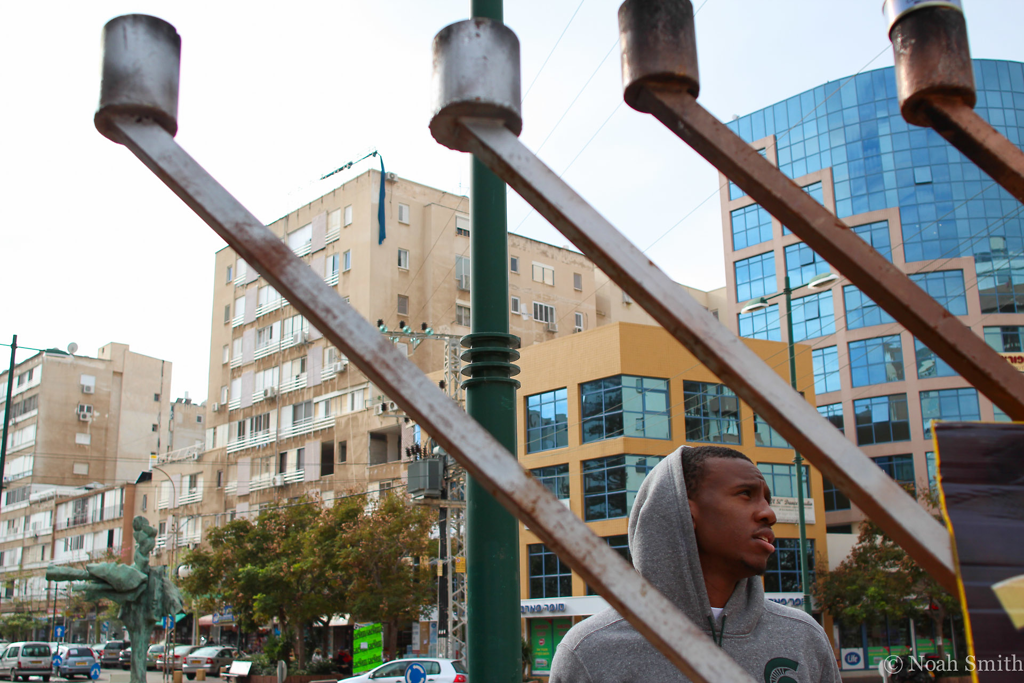 Morgan in downtown Netanya, Israel.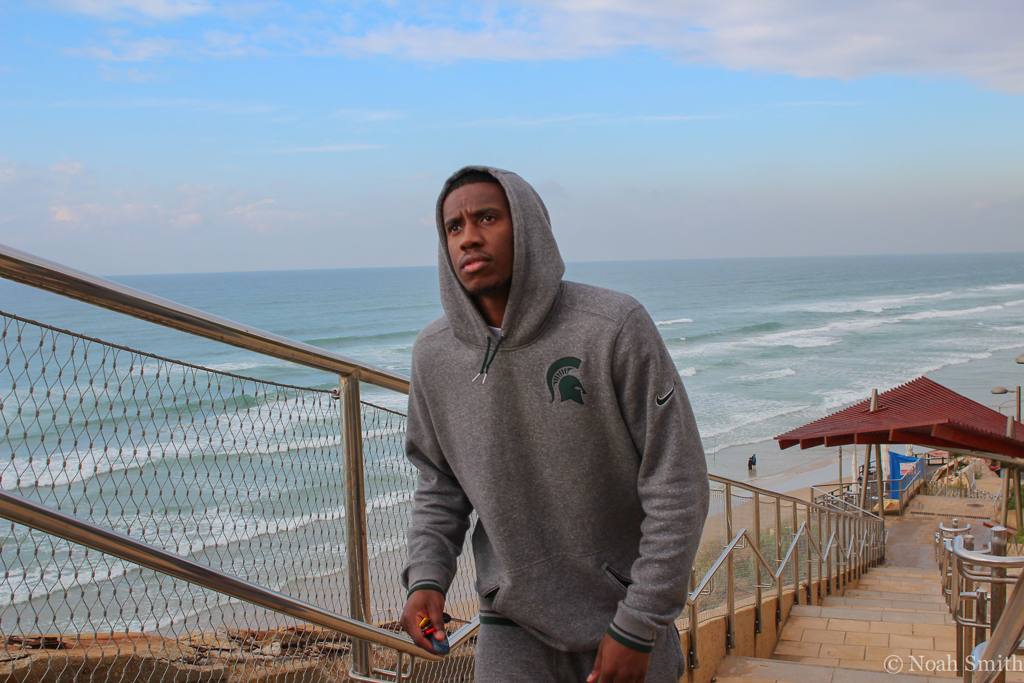 Morgan has adjusted to life abroad and is working toward making a full recovery after his knee injury last season.
Article Links:
http://www.pressandguide.com/articles/2012/12/21/sports/doc50d492dc8c9a9131265439.txt
http://www.dailytribune.com/article/20121221/SPORTS03/121229928/former-msu-star-raymar-morgan-adjusts-to-life-in-israel
http://www.theoaklandpress.com/articles/2012/12/21/sports/local/doc50d4d76b0dcaa873711929.txt
http://www.heritage.com/articles/2012/12/21/sports/doc50d4b2e396609020724886.txt
http://www.thenewsherald.com/articles/2012/12/25/sports/doc50d491ddac30e595850447.txt
http://www.macombdaily.com/article/20121221/SPORTS03/121229923/former-msu-star-raymar-morgan-adjusts-to-life-in-israel
http://legalpronews.findlaw.com/article/06m76Lv1g0gUO
Posted December 19, 2012 14:38